hip hop
Basement Sessions
Honest Expression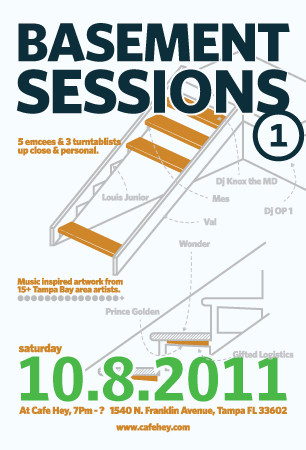 Hip hop floats in the mainstream but still lurks in the shadows. If you appreciate music, you have to realize how hip hop has influenced so many other new sub-genres, and that it has branched out of its own subculture and is now mortar between the bricks of other subcultures.
When I was younger, skateboarding videos shined light on the Pharcyde, Tribe, Wu-Tang, Outkast, and more obscure artists like Dr. Octagon. Throughout the years, friends have introduced artists such as Binary Star, Mr. Lif, and Ugly Duckling to my audible palette. When I moved to Florida, the introduction of rock climbing (yeah, I started climbing in Florida, indoors of course) I was exposed to a particular downtempo producer named Abel Okugawa (he was featured in a few climbing videos, and has collaborated with artists such as Alex Shein and Regime Change).
With so much good stuff to explore, I'm thankful that I'm living in a place like Tampa. A place that keeps steadily cultivating new musical talent with a rapidly expanding music scene. It's becoming more frequent that the search for new sound doesn't come from a skateboarding or climbing video, it begins with a memorable local show.
This coast of Florida houses many talented producers, Dj's and lyricists alike – Mike Mass (and R.T.T.R.), Dynasty, Prince Golden, The Ruckus, Breakdown, the Mixfits, Blenda, and so many others. There's also a lot of talent brewing behind closed doors who are hungry for exposure.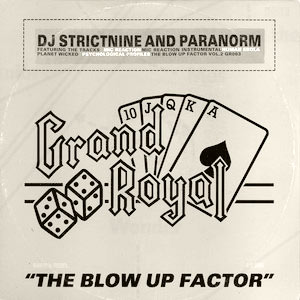 When I was growing up, the superfluity of local hip hop didn't exist, but my first live show was indelible. It was held in a warehouse in South Bend, Indiana and featured Dj Strictnine (who collaborated with Paranorm). Honestly, I think I found out about it from a photocopied paper flyer handed to a friend by Chris Smith (Paranorm) who used to work at the skate park we frequented. The show was free, and included scratching, good breaks, battling, bodies moving, break dancing, and emceeing. It was dark, compact, full of energy and simply memorable - it was a show made up of the raw ingredients of hip hop as a culture.
The Rhizome
While the popularity of hip hop is now massive, it has its tightly planted roots. Hip Hop was born in the Bronx. It lived only at parties, in basements, alleys, and on the streets. Amongst friends; it was an art of performing, and a test of support amongst peers in a close urban environment. It was fast paced and energized, and an innovative expression for the love of music. Everyone involved was an artist – writing graffiti, emceeing, rhyming, sampling, coming up with new breaks, and breakdancing. The whole scene pulsed with creative energy because it was only a pigment, but the culture expanded with commercialization.
Packaged and Sold
The commercial value of music will always be present in any genre, or any art form for that matter, but hip hop (as far as I know) is the only genre of music in which its mainstream success was entirely reliant on a fabricated group by a record company. The record company, Sugar Hill Records. The group, The Sugar Hill Gang. (Other fabricated groups [boy bands] were created long after established genres such as "pop" and "rock," which were already selling records.)
Grandmaster Caz, who's famous C-A-S-S-A-N-O-V-A F-L-Y lyrics are heard in Hanks verse on the group's song "Rapper's Delight" never received a dime for the writing. While this record illuminated the culture on the world stage, it didn't change the true culture of hip hop, it just added a new layer to it.
Music is art, but it is also business. That isn't a terrible thing altogether, without that event in history (which was bound to happen at some point as it does with any innovative culture or idea), many artists wouldn't have pushed the limits of the business side of hip hop. Some artists became completely encapsulated in making money, and expressed it through their lyrics and lifestyle directly (Cash Money, No Limit). Some of the evolutionary sound was intelligent, creative, and also commercially successful, although a lot of it was also predictable and a bit too literal.
Strength in Innovation
Above some of the cliche's created within hip hop from it's fabricated commercial history, there are still lasting ingredients that I personally connect with: Smart lyrics, intricate story telling , writing, catchy hooks, and innovative production (smart sampling and rhythms - 'hold up, I'm not done yet). My deepest respect for the culture as whole is the positive energy, support, and the respect for musical creativity in its purest form; the ideas built up from an MC's life experiences that are poured out in only a few minutes of a song, session after session in circles, over mics, on their own notepads. To experience some of this DNA at a live show today does happen, but live shows are not always approached with these elements at the forefront.
Hip hop still thrives amongst friends. It is still a culture that people live, it's gone from the Bronx to every major city and small town. Some of the most talented people involved in hip hop never record a song, but they won't hesitate to pour out their soul for the love of music–in basements, on the streets, in their rooms by themselves, or at parties. You find them in freestyle circles, moving with the energy and breaking up the air. The best hip hop shows I've attended have had more of that type of energy - they have been more low key, with less pressure and structure. I've been to hip hop shows that have been hyped up and overly promised, and even some where there is rare and awesome act and you look around and think "Where is everyone? Why isn't anyone here?," or you leave thinking "That could have been so much better..." (The commercial value on the "entertainment" side of things to sell tickets has surely created some weird live hip hop experiences.)
I'm involved with a local show (or series of shows if it pans out) that only includes the elements of hip hop at it's roots. Hopefully this first show at Cafe Hey will be the beginning of many basement sessions. The idea for this event grew from my first live hip hop experience with Strictnine, and just to put a punctual period on that moment... Yes, I'm thankful for that experience.
Basement Sessions
While there are not really basements in Florida, there is still plenty of underground hip hop. This event is held in a small space at Cafe Hey. There are 3 Dj's, (one of whom also MC's) and 5 MC's. We hope the breakers show up (even though there won't be a lot of room they can still be a part), and there will be some free styling. We hope the Dj's will be inspired to push their skills.
I can't say this show is "better" than other hip hop events, and that isn't the goal (hell, we're piecing together equipment and it's free). It is just going to be a little different. I just want to invite people to talk to each other about the music they love and view some art. I want people to feed off of the energy that is present, and be a part of it...
About the art
When I put this event together, the option for a venue was at Cafe Hey, and it seemed to fit the vibe. But, the walls at the cafe are a little 'bare' of art right now, due a show I organized last month with Anthony Zollo, in which most of the work has been sold and removed.
I put out a call to artists for work that is inspired by blues, jazz, soul, and hip hop. "Is there a place for work like mine? I'd really love to be part of this show and I'm not sure my work traditionally fits the bill, but hip hop inspires me as much as any other music genre I enjoy. Looking for a particular visual style or does anything go?" I received response from about 15 artists with roots in Florida and am pretty excited about the work. Many of the artists expected the work to be strictly hip hop influenced (spray paint, marker, tagging, bright colors) however, I also thought that to be a bit predictable. Justin Nelson asked: "Is there a place for work like mine? I'd really love to be part of this show and I'm not sure my work traditionally fits the bill, but hip hop inspires me as much as any other music genre I enjoy. Looking for a particular visual style or does anything go?" In response: the art is going to be loosely connected to the inspiration of music that the artists appreciate, and created in their normal style and medium, not constrained to the "street look" as expected - simple as that. There should be some great stuff. Come on out.
Musicians
Visual Artists
Ashley Roper
Angus Shafer
Kelly Huff
Danielle Shockley
Joey Jones